Visual Guide for Journey to Un'Goro!
Looking for the visual guide for the next Hearthstone expansion - Journey to Un'Goro? You can find it here on my own website!
Expansion Information
These will be updated as new cards are released. Be sure to bookmark and check back often!
The amount of cards and rarity distribution is estimated based on *Whispers of the Old Gods. There may be slight differences once the entire set is revealed.
We assume that the total amount of cards in the expansion is the around the same as past expansions, and the new tri-cards will be taken from the neutral card pool.
Expansion Information
Full Reveal Stream! 28th November 2016!
28th November - All cards added! December 1st is the release date! (Thursday)
27th November - Sergent Sally (Neutral Legendary) added!
26th November - Rogue Rare (Shadow Sensei) and Shaman Legendary (White Eyes) added!
26th November - Shaman Rare Weapon (Jade Claw) added!
25th November - Neutral Common (Daring Reporter) and Rogue Rare (Gadgetzan Ferryman) added!
24th November - Druid Rare (Virmen Sensei) and Shaman Common (Jade Chieftain) and Rare (Jinyu Waterspeaker) added!
23rd November - Shaman Common (Call in the Finishers) and Druid Common (Jade Behemoth) added!
22nd November - Rogue Common (Jade Swarmer), Shaman Rare (Devolve) and Druid Common (Jade Idol) added!
Jade Golem
Jade Golem is a minion that scales up in power every time it is summoned. The first time it is summoned, it is a 1/1. Second time it becomes a 2/2, so on and so forth.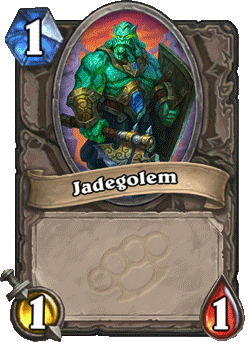 Grimy Goons (Hunter, Paladin, Warrior)
Jade Lotus (Druid, Rogue, Shaman)
The Kabal (Mage, Priest, Warlock)
Druid
Hunter
Mage
Paladin
Priest
Rogue
Shaman
Warlock
Warrior
Legendary
Epic
Rare
Common